The best things in life are free! Take a look at our latest contests and giveaways from Featured Members. (IMPORTANT: Drawings, contests and giveaways posted here may NOT be posted to other lists or sites, public or private, without written consent from the sponsoring party and The Romance Studio.)
Justus Roux's Monthly Contest
Offered by: Justus Roux
Deadline for entry: End of each month
Details: Each month Justus Roux gives away print copies of her novels. Visit her website www.justusroux.com for details.


Enter now!
---
Monthly Contest
Offered by: Kim Cox
Deadline for entry:
Details: I give away a book every month from my box of books. Have a lot of older Loveswepts and Harlequin Intrigues mostly. However, most are new or in new condition. All they have to do to enter is join my newsletter by sending a blank e-mail to Kim_CoxContest-subscribe@yahoogroups.com.


Enter now!
---
Monthly Giveaway
Offered by: Kara Griffin
Deadline for entry: End of each month
Details:
In thanks for liking my Facebook Page, I will pick one winner each month to win a special prize, offered nowhere else! It will be exclusive to my Page Likers. All you need to do is "like" my page or recommend my page (be sure your friend comments that you recommended them to be included in the drawing). The winner will be selected from all the likes/recommendations that month. Winner will be announced on the first of each month. First drawing: 10/1/14
The PRIZE - a beautiful hemp bracelet styled in medieval fashion. Stop by and like my page.
Enter now!
---
Trouble Perfume Giveaway
Offered by: Kimberly Dean
Deadline for entry: Dec. 18, 2014
Details: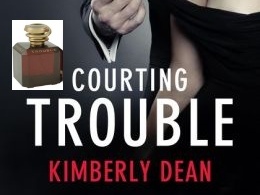 To celebrate the release of her new book, Courting Trouble, Kimberly Dean is giving away a bottle of Boucheron Trouble perfume. Just sign up for her newsletter or tweet to enter!
Enter now!
---
(Disclaimer: The Romance Studio does not guarantee the validity of any contest or giveaway. The outcome of such events is determined by the event sponsor.)