Home
What's New Today?
Authors @ TRS
TRS BLUE
The Rainbow Studio
Book-a-Day Giveaway
TRS @ Twitter
TRS @ Facebook
New! TRS @ Tumblr
New! TRS @ Pinterest
TRS Blog
Advertising, services & ala carte
Drawings & Giveaways
Reviews
Request a review
Workshops
About us
Just Released
Hosted Chats @ TRS
Romance News
CAPA's
Feature Archives
Articles
Sneak Previews
Search our database
Writing Contests
Conferences
Facebook Share Project
When news happens in the romance genre, you can read about it here. Have a news item that you'd like to post? Click here to register.
Coming Soon!
2013-05-19 by Marteeka Karland Illicit Mating Gabrielle is willing to risk her life for a future away from dying Earth, even if it means giving herself over to a man she's never met. With her best friend Lyra, she takes the leap, volunteering to help the alien Cluath repopulate their world. Worr of Cluath has his own misgivings about Gabrielle. But she proves to be just as formidable an opponent as anyone he's ever faced. Their passion proves volatile, their quickly formed bond becoming the first line of defense when mysterious forces attack the Lunar colony Worr is pledged to protect.
Source: http://changelingpress.com/product.php?&upt=book&ubid=2052
Source on the web: http://changelingpress.com/product.php?&upt=book&ubid=2052
New Release
2013-05-18 by Clare Dargin My new futuristic erotic romance Cold Warriors is getting great reviews.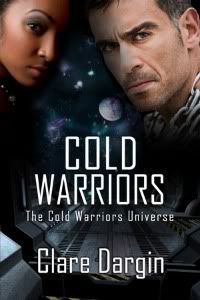 available now at Amazon, Decadent Publishing and all ebook retailers.
Source: Decadent Publishing
Source on the web: www.decadentpublishing.com
new release
2013-05-13 by Mickey J. Corrigan Mickey J. Corrigan's newest release is a spicy romp through nerd world. Geekus Interruptus (Noble Romance, May 2013) takes a tongue in cheek look at what it's like to marry a genius, and shares what a love-smart girl can do when he seems to be losing interest.
Source:
Source on the web: www.mickeyjcorrigan.com
Blog Post and Giveaway
2013-05-10 by Rhonda L. Print Hi all! I'm visiting Kimber Vale today over at her blog and giving away free copies of NIGHTWALKER: A LEAH WOLFE SINS NOVEL. Stop on by! http://kimbervale.wordpress.com/2013/05/10/rhonda-print-is-here-with-a-free-book/
Source:
Source on the web: http://kimbervale.wordpress.com/2013/05/10/rhonda-print-is-here-with-a-free-book/
Free E-Book
2013-05-09 by Rhonda L. Print To celebrate the release of JUSTIFIED: A LEAH WOLFE SINS NOVEL, Book 4 http://www.LSBooks.com is giving away NIGHTWALKER: A LEAH WOLFE SINS NOVEL Book 1, for free. They are also offering discounted prices on THE ORDER OF CHAOS, Book 2, JUSTIFIED Book 3 and GUARDIAN all by Rhonda L. Print. Find out more at www.RhondaLPrint.com
Source: www.LSBooks.com
Source on the web: www.LSBooks.com
(Disclaimer: The Romance Studio does not guarantee the validity of any news item posted by users or submitted source material.)