Happy Memorial Day Weekend
Posted by: TRS Staff
2015-05-26 -
In honor and memory this weekend of all of those who sacrificed so much for our freedom. On behalf of all of us @ TRS, thank you!
Going All In by Lily Vega
Posted by: Decadent Publishing
2015-05-23 -


Ian Harding did not gamble on getting expelled from the poker room for defending a gorgeous cocktail waitress. Another loss and he will be forced to face the past he escaped to Sin City to avoid. But Lady Luck is finally on his side when he wins a date arranged by the 1Night Stand dating service.

One night is not enough for Ian, but he has a past to face and Kira does not think a future for them is in the cards. Can he convince her to go all in?


To learn more about our 1Night Stand Series, click here.





The Highlander's Secret Baby by Kenna McKay
Posted by: TRS Staff
2015-05-23 -
The Highlander's Secret Baby by Kenna McKay
Skye MacBay fell in love with Maddock Lusk three years ago. Their time together was brief, but it left Skye with something precious. Now Maddock has blown back into her life and she's determined to tell him about the secret she's kept the past three years. Except the chemistry between them is just as explosive as ever and before she can get the words out, he's kissing her with a hunger that sets her on fire.
Maddock has known from the very first that Skye is his destined mate. He's spent a very long three years living like a monk. First her father, alpha of her pack, kept them apart. Now it's her brother standing in the way, but Maddock will have one last taste no matter the consequences. When they're caught, he must run once more, but he knows that things between them are far from over.
When a determined tiger and a sassy wolf get together, sparks will fly. But only through a strength neither realized they possessed will they be able to come together once and for all.
The Blackbird by Kristy McCaffrey
Posted by: TRS Staff
2015-05-23 -
The Blackbird by Kristy McCaffrey
Arizona Territory 1877
Bounty hunter Cale Walker arrives in Tucson to search for J. Howard "Hank" Carlisle at the request of his daughter, Tess. Hank mentored Cale before a falling out divided them, and a mountain lion attack left Cale nearly dead. Rescued by a band of Nednai Apache, his wounds were considered a powerful omen and he was taught the ways of a di-yin, or a medicine man. To locate Hank, Cale must enter the Dragoon Mountains, straddling two worlds that no longer fit. But he has an even bigger problem—finding a way into the heart of a young woman determined to live life as a bystander.
For two years, Tess Carlisle has tried to heal the mental and physical wounds of a deadly assault by one of her papá's men. Continuing the traditions of her Mexican heritage, she has honed her skills as a cuentista, a storyteller and a Keeper of the Old Ways. But with no contact from her father since the attack, she fears the worst. Tess knows that to reenter Hank Carlisle's world is a dangerous endeavor, and her only hope is Cale Walker, a man unlike any she has ever known. Determined to make a journey that could lead straight into the path of her attacker, she hardens her resolve along with her heart. But Cale makes her yearn for something she vowed she never would—love.
Going Rogue by Jessica Jefferson
Posted by: TRS Staff
2015-05-23 -
Going Rogue by Jessica Jefferson
Miss Meredith Castle leaves behind everything she knows to join her great aunt in London and become leader of the infamous girls' club, The Ribbons. She's willing to make whatever sacrifices necessary to redeem her ailing mother, even if that means leaving her childhood love behind to scale London's social ladder.
When Derek Weston's best friend receives the offer of a lifetime, he encourages her to take it. Unwilling to let her go completely, he chases after her, only to find the sweet girl he loved replaced by a spoiled debutante. A broken man, he leaves London to start a new life at sea.
Five years later, Meredith realizes her reign as Queen of the Ball is about to come to an end, if she doesn't do something to fix her tarnished reputation. Pairing up with the Season's newest wallflower seems like the perfect plan, until she finds out her demure friend is being pursued by the very man she thought she'd never see again. Only, Derek Weston isn't who he used to be. He's inherited a Scottish title and grown into an arrogant man she barely recognizes; yet in her heart, knows she still loves. Torn between her past and an uncertain future, can she find a way back to the life she used to have and the boy who once adored her?
Tiger's Claim by Kenna McKay
Posted by: TRS Staff
2015-05-22 -
Tiger's Claim by Kenna McKay
On Kindle Unlimited and only 0.99 to buy!
Tiger shifter, Brochan Kinley, is tired of waiting for his destined mate, but maybe asking his current girlfriend to marry him wasn't the best idea -- especially when she leaves him standing at the altar! But despite how much that messes with his mind, it doesn't excuse what he does next.
Fenella Sinclair didn't mean for things to go so far, but she's always admired the beta of the local ambush. She's been infatuated with him ever since she saw him shift several years ago, and doesn't care if he claims she's too young for him. But her one moment of stupidity has consequences.
When Brochan realizes Fenella is carrying his cub, he knows he should step up and do the right thing, but he's still feeling the sting of her sister's rejection. What's a tiger to do when everything he's ever wanted is within his grasp if only he'd dare to reach for it?
A Fading Amaranth by Shauna Aura Knight
Posted by: TRS Staff
2015-05-22 -
A Fading Amaranth by Shauna Aura Knight
Nathaniel's been a vampire long enough to grow weary of glamoured seduction, and he's lost his poetic muse. He meets reclusive artist Alexandra—her telepathy has overwhelmed her for years, and she can bear no one's touch. However, she can't hear Nathaniel's thoughts, and she's immune to his vampire glamour. During scorching nights together, they rediscover their passion for life.
When a Faerie creature stalks Alexandra, the lovers find themselves snared in a paranormal battle alongside Chicago's mage guardians. Worse, Nathan's rising bloodlust places Alexandra in danger. Will she master her abilities before going insane? What will they risk to be together?
Resurrection by Shyla Colt
Posted by: TRS Staff
2015-05-22 -
Resurrection by Shyla Colt
A horrific betrayal stole her voice and nearly her life. Mute and broken, Vita retreated from the world. Dependent on her brother Houdini, the family farmhouse where she licked her wounds became a tower to hide in. When her brother winds up missing, she must come clean about their past to his M.C. The result is a downward spiral that will change both of their lives forever.
The only one in Wesson Rebels who can understand sign language is Prophet. He finds himself assigned to the petite beauty. When her lies about her past become a tangled web, that threatens to ensnare them all, like changes to loathing. She's just like the woman who ruined his family and almost took his life. Determined to keep her at a distance, he puts up a wall. When fate forces them to depend on each other for survival, barriers tumble down, truths come to the light, and an unbreakable bond is forged.
When reality returns, they have two choices, retreat into the darkness or remain in the light.
Restoration by Kim Loraine
Posted by: TRS Staff
2015-05-22 -
Restoration by Kim Loraine
After the tragic death of her fianc', Grace McConnell turns to the only remaining constant in her life, her work. So when she's offered the lead position for an international restoration project, she jumps at the chance to get away from her small town, full of John's memories.
Drew Tensley has always been a hard worker. Dedicated to his family and community, he put aside his own London career to take over the family business after his mother's terminal diagnosis. Five years later, he's ready to start living for himself when he literally runs into his hometown's newest architect.
Grace quickly discovers that traveling halfway across the world was the best decision she's ever made. Until she meets Drew, a man whose personality and lifestyle are the exact opposite of John's, but whose face is the spitting image. Struggling with her own motivations and feelings, research uncovers secrets she isn't ready for; secrets that could ruin her second chance for true love.
Green Book of Grown-Up Fairytales
Posted by: Decadent Publishing
2015-05-22 -


A magical traveler. A sleeping princess. An unsure reunion. An impossible task. A widow wronged.
Five fairytales retold. If you thought you knew them, you were wrong.


Click here to learn more




The Wolf and the Butterfly by Kerry Adrienne
Posted by: TRS Staff
2015-05-21 -
The Wolf and the Butterfly by Kerry Adrienne
Nika, the pack's newest scout, wants nothing more than to please his Alpha. When he discovers a beautiful, and very sick, stranger in the woods outside Los Lobos, he finds himself torn between his duty and his hormones. The stranger carries a deadly wolf virus—one that hasn't been seen in the Black Hills in ages.
Kimi, a Lakota Sioux, is dying. She's transported herself forward in time, hoping to find the cure to the illness that's stricken her tribe. Her only chance for survival is to trust Nika, even if she's not used to having help.
To find the cure and save the pack, Nika and Kimi must travel to a time long ago—before the Lakota populated the Black Hills—a time filled with dangers neither can imagine. Their growing attraction may save them, or kill them both.
Release Party @ TRS May 21st!
Posted by: TRS Staff
2015-05-21 -




Join us for a fun party tomorrow, May 21st, enter for prizes and chat with your favorite authors at our party site.

Featuring:



Tradepaper available now!

Authors attending:
Izzibella Beau
JoAnne Myers
Lacey Roberts
Lisa Carlisle
Megan Slayer
Normandie Alleman
Rosanna Leo
Susan Horsnell
Tina Donahue


Of Love and Vengeance by Louise Lyndon
Posted by: TRS Staff
2015-05-21 -
Of Love and Vengeance by Louise Lyndon
Forced to marry Lord Aymon to ensure her young nephew's survival, English Lady Laila vows undying hatred for the Norman she holds responsible for the deaths of so many innocents. Discovering Aymon has committed an act of treason gives her the chance to seek vengeance he deserves. But can Laila let Aymon die at the hands of the king once she learns the truth?
A hardened Norman warrior, Lord Aymon has lived through atrocities no man ever should. With the invasion of England over, all he wants is a quiet life and a wife who will give him heirs and obey his every command. Instead, he finds himself wed to feisty and outspoken Laila. But when she learns the truth of his treasonous act, can Aymon count on her to keep his secret?
His To Command by Monica Burns
Posted by: TRS Staff
2015-05-20 -
His To Command by Monica Burns
From the moment John Fordyce saved Charlotte Clayworth from drowning at the age of five, the two of them have been inseparable. Trapped in a deserted farmhouse on a blizzardy Christmas Eve, John desperately struggles to control his desire for the woman he's grown up with. When a small act of discipline compromises Charlotte, honor requires John to make a marriage proposal different from the one he intended.
When Charlotte realizes she's in love with her best friend, she can't contemplate another man caressing her the way John does. But when he states they must marry to save her reputation and satisfy his honor, she refuses. The thought of their friendship dissolving into a marriage embittered by a single indiscretion horrifies her.
Their friendship crumbles as they go their separate ways until a close-knit group of Self-Made Men decide to meddle in their mentor's love life and reunite the two lovers. But will John and Charlotte realize they both have the same wish—that the best of friends make the best of lovers?
"Monica does NOT disappoint her readers in this expanded version of HIS TO COMMAND! Holy HOTNESS and talk about creating curiosity and adding another Book Boyfriend to my list! Cannot wait until the next one!!" — Viviana Izzo - Amazon
"I seriously loved the secret, naughty lovemaking and think that I would really like to read more of the stories by Ms. Burns. She knows how to write her sexy times! A strong 4 to this short short prequel to the Self-Made Men Series." — It's About The Book
"New author for me and I am delighted! This was such a wonderful friends to lovers story….that joyously rights itself in the end! I MUST tell you, John's got himself a little Dom in him and Charlotte likes it! ;)" — Jessica Alcazar - Goodreads
"…my top score of 5 fingers up & 10 toes for this quickie EXTRAVAGANZA OF NAUGHTY DOMINANCE!" — Patty McKenna Van Hulle - Goodreads
Latest Release!
Posted by: Tory Richards
2015-05-20 -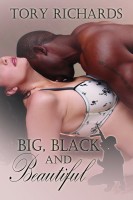 Big Black and Beautiful
Shellys brother is away fighting war and asks his best friend Tony to look out for her while he is gone. That means Tony needs to be on his best behavior and hands off for them both. But Shelly has had her eyes on the sexy exMarine for a long time and she is about to make him hers!
An All Romance Ebook Best Seller!
http://www.amazon.com/Big-Black-Beautiful-Tory-Richards-ebook/dp/B00V46MYZI/ref=asap_bc?ie=UTF8
Club Aegis 2: Love Is Danger by Christie Adams
Posted by: Christie Adams
2015-05-20 -
Club Aegis 2: Love Is Danger by Christie Adams
Having only just dumped her lecherous, two-timing boyfriend, Stacie Matheson never expected, when her car broke down in a storm, to be rescued by a tall, blond-haired, blue-eyed knight in a shining Jaguar. Cam is everything her ex was not – and more besides.
Now that his old friend Alex has settled into married life with his submissive, Beth, Cameron Fraser is ready to surrender his single status. What he isn't ready for is being blindsided by a beautiful, curvy damsel-in-distress.
Fate has brought them together – the Dom who needs a submissive, and the woman who takes her first steps into the world of submission at his side. However, there's more to Cam's life than the sensual games he plays with Stacie. When that life intrudes on their relationship, neither is prepared for the devastating consequences.
Read an excerpt and buy your copy here
A Wolf Awakens by Cam Cassidy
Posted by: TRS Staff
2015-05-20 -
A Wolf Awakens by Cam Cassidy
Death is not always an ending.
When the dreams first began, Angeni Sweet thought they were just that…dreams. Born with the gift of a medium, she quickly realized the truth—when she last entered the spiritual world, something returned inside her. Waking with bruises and daytime flashes of pain, the dark spirit makes himself known. His face, his name, a place. He leads her, and she has no choice but follow.
Believe in nothing.
Despite living in Los Lobos his entire life, Jaxon Boone has few things he believes in—his favorites being cold beer and hot women. Those beliefs change. When Drew demands he take the beautiful stranger, Ange, to an isolated cabin in the woods for the good of the pack, he learns that the things not seen are the most powerful.
The battle begins.
Fighting against the malevolent spirit of Magnum as he tries to push his way back to world, Ange fears it won't be enough. Will Jax find the belief in needs in time to save not only the pack but the woman that quickly becomes the center of his world?
Much Ado Abount Miners by Jacquie Rogers
Posted by: TRS Staff
2015-05-20 -
Much Ado Abount Miners by Jacquie Rogers
The fourth novel in the Hearts of Owyhee western romance series!
Cupid's bullet…
Hired gun Kade McKinnon interrupts a bank holdup and is shot by the teller, Iris Gardner, whose victims have a tendency to be the next groom in town. Will he be the groom this time?
Cupid's bow…
Iris Gardner, a smart, independent bank clerk, fell in love with Kade when she was too young to know better. So when he walks back into her life and her bank, it's only fitting that she shoots him … by accident, of course.
Cupid's blindfold… Kade doesn't know Iris's company is the one who hired him to escort a bullion shipment, and Iris doesn't know Kade owns the security company, but they both know robbers are on their trail. Which is more likely to be stolen—the silver, or his heart?
Lost Wishes by Kelly Gendron
Posted by: TRS Staff
2015-05-19 -
Lost Wishes by Kelly Gendron
New Release!
He's ruthless. She's relentless.
Together, they are boundless.
Fallon O'Conner is ruthless...
Each day comes and goes without meaning He eats, sleeps, and waits The time is nearing to confront his wife's killer And nothing will stop Fallon from getting his revenge. Then, Katie Rustle comes crashing into his forsaken life...
Katie Rustle is relentless...
Her boss needs something Fallon O'Conner has it And Katie is just the person to get it She's no stranger to bad-tempered, cruel, heartless men. A man corrupted by the loss of a loved one raised her.
Summer's Family Affair by Cynthia Gail
Posted by: TRS Staff
2015-05-18 -
Summer's Family Affair by Cynthia Gail
Jenny Cohen defines successful independence: she put herself through college, couldn't ask for better friends, owns a consulting firm, wears designer clothes, and just moved into her dream home... But she's alone, except for her ailing mother whom she supports in a nursing home. As the marketing consultant for Chester, Dorsey & Tanner, she's surrounded by male attention. Too bad it's the overly-protective big-brother type.
Architect Craig Stone hasn't looked at another woman since his wife passed away four years ago. His time is taken—building a career while trying to be both mother and father to his eight-year-old son. But when his appointment with the largest development firm in Nashville is double-booked with a black-haired beauty, he finds himself reaching for new possibilities.
The attraction sets off more fireworks than the Fourth of July. Yet their relationship is riddled with issues neither one of them expected. Somewhere in the middle they must find a way to compromise or let go of a chance for love they may never find again.
Staying Home Party @ TRS 5/12-5/17!
Posted by: TRS Staff
2015-05-17 -


You are invited to our Staying Home Party! We're giving away an Amazon gift ecard (electronic gift card only, value $100 minimum) to one lucky reader and we're giving away a lot of other prizes too!

Where is it going to be held?

The event will be held exclusively at our PARTY SITE.

When is it going to be held?

From May 12-17, 2015. Times? All day!

Which authors will be there?

Allyson Lindt
Amanda Bretz
Caitlyn Willows
Christina Tetreault
Christine Murphy
Danni Price
Izzibella Beau
Jianne Carlo
JoAnne Myers
Jocelyn Dex
Justus Roux
Kayelle Allen
Leigh Ellwood
Lucy Felthouse
Roz Lee
Tina Donahue
Tory Richards

Featuring:



When a simple farm girl attracts the notice of the King's half brother, it leads to a dazzling world of privilege, intrigue, war and passion.



A collection of three award-winning literary short stories exploring the impact of love.
Timeless Christian Romance Writers Conference
Posted by: TRS Staff
2015-05-17 -
Timeless Christian Romance Writers Conference
Bridging the gap between indie and traditionally published faith-based writers
Keynote speaker - Tracie Peterson #TraciePeterson
Save money - Early Bird registration
Acquiring agents and Editors #Harlequin #Love Inspired #ChristianFiction #RomanceWriters
Best-Selling Presenters Janice Thompson @booksbyjanice Susan May Warren @SusanMayWarren
Ariel by Donna McDonald
Posted by: TRS Staff
2015-05-16 -
Ariel by Donna McDonald
Despite her sharp scientific mind and her degree in bio-molecular genetics, Dr. Ariel Jones hasn't figured out how her life changed so much in a single day. Before she can blink and ask about what is going on, she's being shot with a billion nanos and some very potent wolf blood.
Now she can suddenly turn into a giant white wolf with the bloodlust of a starving animal. And she's an alpha wolf…or so she is told by the even larger, very male, black wolf who was used to create her. Hallucination? She wishes. Whether human or wolf, Reed talks in her head and tells her how to handle things…or rather how to kill them…starting with the men who hold them all captive. Too bad he can't tell her how to put her life back like it was.
Admittedly, there are perks to being a werewolf, such as meeting sexy werewolf guys like Matthew Gray Wolf. It's not like the science labs were overrun with sexy men in white coats. She also doesn't mind learning about a side of herself she never knew existed. It's great changing into a real wolf whenever she wants, but being a living experiment wasn't part of the scientific career she'd planned for herself. Neither was falling for the local werewolf alpha, but what else is a newbie werewolf caught in her burning time going to do?
Club Beam by Erzabet Bishop
Posted by: TRS Staff
2015-05-16 -
Club Beam by Erzabet Bishop
In the Shadow World, nothing is as it seems.
Detective Sydney Marr is having a very bad day. Her boss is on the warpath, she's being treated for a werewolf bite, and her current case has hit a dead end. When her friend Erika talks Syd into going with her to Club Beam, she jumps at the chance, even if it means spending an evening without her spell arsenal. A high-class vampire bar and fetish club, Club Beam is fantasy made real.
Club owner and Dom Gideon Raines spies the red-haired beauty and is transfixed. A fight against a skillful murderer brings war for fae and vampire alike. Sometimes when you play with monsters, the monsters play back.
Dance of the Vampires by Cornelia Amiri
Posted by: TRS Staff
2015-05-15 -
Dance of the Vampires by Cornelia Amiri
Seven vampiric temptresses dance with seven handsome highlanders. Then they turn on the men.
Ian captures Sorcha, giving his brothers a chance to escape. With the vampiric fey woman still in his grasp, Ian is saved by the rising sun. Sorcha's sisters vanish with the light of dawn leaving her trapped in the mortal realm. Ian is bewitched by the wild delights she offers and Sorcha can't resist the urges he stirs in her. But her wicked sisters and his highland brothers only want to attack and kill each other. Will Sorcha and Ian's sizzling passion prove strong enough to overcome the differences between human and fey?
Forever Mine by Monica Burns
Posted by: TRS Staff
2015-05-15 -
Forever Mine by Monica Burns
When a bomb explosion thrusts Victoria Ashton backward in time to 1897, she's forced to impersonate the Countess of Guildford. Despite Victoria's attempts to convince the earl she's not his wife, her counterpart's infidelity, lies, and ill-tempered personality makes the task almost impossible. Worse, Victoria finds herself falling in love with a man who loathes her. Only when the earl learns to trust her does she realize her future lies in the past. But love always comes at a price, and she must make a painful sacrifice in order for them to be together.
Nicholas Thornhill, Earl of Guildford has been searching for his missing wife for three weeks. Rumors of him being guilty of murder make him unwilling to believe his wife's latest in a multitude of lies. But the changes in Victoria continuously surprise him. Despite his best intentions, he finds the contempt he once felt for his wife turning into something deeper and stronger. But when danger threatens to separate them forever, he must forge a bond with her that crosses the boundaries of time.
Amazon Rated 4.8 70+ reviews. Goodreads 4.34 - 199 ratings/60+ reviews. A romance masterpiece compared to the classic "A Knight In Shining Armor." "…like the center of an Oreo, the best part of the cookie. [Burns] has captured true romance and woven it into a time travel/reincarnation tale. - B&N reader
"Wow. Just wow. This book blew me away. I was so deeply connected to this story that I read this book in lieu of doing anything for the past two days. No laundry, no evenings working, the dishes are piled up and my poor kid is wondering where Mommy went." — Kilts and Swords
"Monica Burns has once again gotten me to read and love a historical romance! Forever Mine is a phenomenally written story of a love that surpasses the barriers of time. At the end I cried ugly, gut-wrenching tears which I rarely do. The emotional last few chapters bled through my Kindle and directly into my soul. Monica Burns has written something truly magical. Forever Mine surpassed my expectations by miles and then kept on going." — Nikki Brandyberry, Ramblings from a Chaotic Mind
"Forever Mine is the best time-travel romance I've ever read, rivaling Jude Deveraux for intensity and chemistry between the hero and heroine." — Lucy Monroe, USA Today bestselling author
This book is like the center of an Oreo, the best part of the cookie. Monica Burns has captured true romance and woven it into a time travel/reincarnation tale. The characters are so well developed and true. — B&N Reader Review
One Night With Her Husband by Sara Daniel
Posted by: Decadent Publishing
2015-05-15 -




She walked away from her marriage seven years ago... Marcia Johnson always assumed her husband would follow her eventually. She achieved success while she waited and prove her decision the right one. But when he finally turns up, she is not ready. Her career hangs in the balance, and her weight has skyrocketed. How can she face the man she loves and show him she made the right choice? Especially when he has matured from a decent-looking college student into the sexiest man she has ever seen.

Read an excerpt and get your copy today!




The Gate of Lake Forest by Ami Blackwelder
Posted by: TRS Staff
2015-05-14 -
The Gate of Lake Forest by Ami Blackwelder
A story of love and coming-of-age… When a human and an elfin fall in love, what happens in forbidden romance?
Within the small town of Green Mountain Falls, Colorado, there exists a quiet forest where a world undiscovered awaits. When soccer player, Michael Cole, of high school Green Mountain Falls sees the new girl Evelyn, coy yet intoxicating, walk into his senior English class he is forever changed.
His passion for her takes him deep into her heart and deep into her mystical world. Will their forbidden love be able to sustain them as their separate worlds collide? Evelyn and Michael go on a magical journey into adventurous and perilous realms where dangerous creatures are determined to defeat them.
High school will never be the same…
Fans of Twilight will enjoy this novel.
"Elves and dark wolves and humans – oh, my! This story centers itself in a forest - no, that's not quite right – in two forests, one in the human world and one in Emeralusia, land of the elves….
Ms. Blackwelder has gone to great depths to create Emeralusia, its creatures and its history…The characters are great….I'd recommend this for YA!" -Magnolia @Goodreads
"A must read for anyone who loves a good story, and the idea that true love conquers all." -Shawn @Goodreads
"I must say I could not put them (Gate of Lake Forest/Prisoners of Pride) down. I read the first book in one night; I know my students would love to hear more about your books."-Charla VandeBerg (Raymond B. Stewart Middle)
Wrapped in Flame by Caitlyn Willows
Posted by: TRS Staff
2015-05-14 -
Wrapped in Flame by Caitlyn Willows
Shed of the biggest mistake of her life, Erica is looking forward to starting over. Who better to help her explore her options than the man who's been front and center in her fantasies. Mike thought hell was wanting Erica and knowing she belonged to another man. That hell was knowing the other man was a worthless son of a bitch who didn't deserve her. Now she's all his and he's not wasting a single second. Nothing like being suspected of her ex's death to destroy unfettered bliss.
Mike would to anything to keep her safe, to have her in his life now that she's free, even if that means letting go when he wants to hang on tight. Erica's determined to stop the monster preying on others. Giving over control isn't so easy when you know doing so could very well cost the woman you love her life.
First and Forever by Angelita Gill
Posted by: TRS Staff
2015-05-13 -
First and Forever by Angelita Gill
Under the guise of research for a magazine article, Brett Carver contacts 1Night Stand, but she's really hoping a hot date will be the perfect quick-fix to her problem: constantly fantasizing about her best friend, Lincoln Murrow.
After accidentally coming across Brett's email from Madame Eve, Lincoln cannot stand the thought of another man laying hands on the woman he's craved for years. The solution is simple: take the place of her date. He'll show her what is familiar is not always predictable.
When she walks in and sees Lincoln waiting for her, she's shocked, mad as hell, then torn between potent desire and keeping their relationship platonic. Unable to resist her fantasy-come-true, she gives in, knowing it's a point of no return.
They were always meant to be together, and Linc knows it'll take more than amazing sex to convince Brett. Lucky for her, he's more than up to the challenge. Because sometimes the biggest risk is not taking one at all.
Much Ado About Marshals by Jacquie Rogers
Posted by: TRS Staff
2015-05-13 -
Much Ado About Marshals by Jacquie Rogers
NOR Top Pick
CTRR Award
Rancher Cole Richards rescues his friend from robbing a bank, but is shot for his efforts, and now is a wanted man. His friend takes him to Oreana to see the doc, but Cole's mistaken for the new marshal!
Daisy Gardner is obsessed with solving crimes just like dime novel heroine Honey Beaulieu. But Daisy's parents insist she marry a farmer. Problem is, she can't be a detective if she's stuck miles from town. What better solution than to marry the new marshal.
Now Cole faces a dilemma few men have to face—tell the truth and hang, or live a lie and end up married. Either way could cost him his freedom.
Native Tongue by Lucy Felthouse
Posted by: TRS Staff
2015-05-12 -
Native Tongue by Lucy Felthouse
They may be back on British soil, but the battle isn't over. Native Tongue, MM erotic romance.
The much-anticipated follow up to Desert Heat. Native Tongue, MM erotic romance.
"…hot and sexy and keeps the pages turning. Recommended." 5-star review on Goodreads.
The Greek Tycoon's Ultimatum by Lucy Monroe
Posted by: TRS Staff
2015-05-12 -
The Greek Tycoon's Ultimatum by Lucy Monroe
Savannah has returned to Greece with the intention of making her peace with the Kiriakis family. But Leiandros Kiriakis has other ideas. He still believes the lies about Savannah, and is set on making her pay for the past.
Savannah is reluctant when Leiandros demands that she share his home. There's an unbearable sexual tension already throbbing between them. As for Leiandros, now he has Savannah right where he wants her - and in a short time he'll be giving her an ultimatum: if she doesn't want to lose everything she holds most dear, she'll agree to be his wife!
Choosing Riley by S.E. Smith
Posted by: TRS Staff
2015-05-12 -
Choosing Riley by S.E. Smith
Riley St. Claire has always followed her own rules. When she discovers her current employer is not as law-abiding as she thought, she has to leave town in a hurry or end up buried with the dead guy she discovered. What she doesn't expect is to find herself being picked up by a passing trader from another world. As the ruling King of Sarafin, Vox d'Rojah was expected to produce a son who would be joined in marriage with the first-born daughter of the King of Valdier. The problem was Vox had no intentions of having any sons, at least not in the near future. He was quite happy with the wide selection of females he had at his disposal. When he is captured by a ruthless Valdier royal and sold to a mining operation, the last thing he expected to find was his bride mate. Vox isn't sure which would be easier: fighting another war with the Valdier or capturing and holding on to the human female who is unlike anyone he has ever encountered before. Now, Vox has to escape back to his world while fighting pirates, traders, and Riley! The King of Sarafin has met his match in Ms. Riley St. Claire from Earth. Now, he just needs to figure out a way to let her know he has chosen her as his Queen—and he has every intention of keeping her by his side forever.
Vampire Highland Fling by Cornelia Amiri
Posted by: TRS Staff
2015-05-10 -
Vampire Highland Fling by Cornelia Amiri
Murdina a vampiric fey is hunting for a man, but this time she wants love not blood. She spots Cameron just as a strong wind lifts his kilt, she takes a good look and decides he's the one.
Cameron meets a mysterious beauty, who dances the Highland fling for him, and his blood boils for her. Soon Murdina and Cameron are doing more than dancing. But their time together is limited. Murdina's fey sisters are crossing the portal to steal her back and probably kill him. Is their love strong enough to overcome the threat posed to Murdina's heart and to Cameron's life?
Endless Devotion by Libby Waterford
Posted by: TRS Staff
2015-05-10 -
Endless Devotion by Libby Waterford
What better way to keep her ex at a distance than by becoming engaged? Of course, Katya Noskov's betrothal to a fellow Weston University professor is just a sham, but she'll do anything to avoid becoming ensnared in the seductive trap set by Devak Batra, her charismatic ex, who just happens to be the US Secretary of Education.
Dev arrives on Weston's campus to give the commencement address at the graduation ceremony and to propose to Katya while he's at it. The last thing he expects is for her to announce her engagement to someone else. Undaunted, he's determined to talk her out of her betrothal and back into his bed.
When Katya and Dev come together, sparks fly, clothes come off, and nothing, not even an engagement ring, can stop them from acting on their physical desires. From passionate stolen kisses to trysts in the rain, these two can't keep their hands off each other, but steamy sex can't resolve Katya&38217;s reasons for leaving Dev in the first place. He must show he can make room for her in his life, not just his bed, if she can consider a future with the sexiest member of the Cabinet.
Will Katya's fake engagement lead to a real proposal? Can Dev's devotion survive distance, lies, and acts of congress?
Naming His Mate by M. Limoges
Posted by: TRS Staff
2015-05-10 -
Naming His Mate by M. Limoges
Small-town sheriff, Mike Hadley, would love to experience a headache-free day for once in his life. Unfortunately, that's not going to happen anytime soon. While investigating a rash of disappearances and dealing with his ornery lover, he's thrown into a whole new world he never imagined existed.
Damien Marks has finally found a place to call home in Los Lobos, South Dakota, with the Black Hills Pack. He also stumbles across something he never thought he would—his mate. Falling hard, he decides he needs to come clean and tell the truth. But will his sexy lover accept what he is?
Embroiled in a potentially dangerous situation, both men have to decide where their loyalties lie—with duty or love?